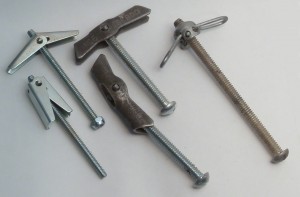 Hanging a painting or picture on a wall can be a challenging task. Heavier frames can pull the nails or screws right out of the wall if the job isn't done right. Now you have a mess to clean, holes to repair and a frame to hang!
Bauer Construction offers up the following steps below to help you do the job yourself. If you'd rather have a pro do it for you, contact a handman and tell him where you want your objects hung.
Not only do you need to center items correctly, you must be sure to use proper heavy picture hanging hardware when hanging objects that weigh more than 20 pounds. For hefty wall hangings, such as heavy mirrors or large-framed art, you'll need to follow some simple rules to make sure the thing stays put and does not damage your wall (and floor!) in an unexpected freefall.
Expect to spend between $5 and $10 to acquire the small metal hardware items needed for this task. If you decide to purchase a stud-finder, add another $15 to the total. Read the rules through once to see what tools and hardware you will need, based upon the weight of your picture and the type of walls you are dealing with.
The Rules
Rule 1: Weigh it!
If your picture comes in at less than 20 pounds, it's probably all right to hang it without any special hardware. For items that tip the scales between 20 and 50 pounds, you'll need a few pieces of inexpensive heavy picture hanging hardware. If your object is heavier than 50 pounds, you had better use special reinforcement, usually plywood. The rest of the rules listed here pertain to hanging heavy pictures and other wall hangings that weigh more than 20 and less than 50 pounds.
Rule 2: Use anchors
Using a drill-bit the same size as your anchors, make a hole in the wall where you want to hang your picture or painting. Tap the anchors lightly with a hammer until they are flush with the wall.
Rule 3: Insert the screws
Put screws into the anchors, leaving enough of the screws exposed for your hanging wire or twine.
Rule 4: For hollow or very thin walling, use a molly bolt
Molly bolts have a special flange that pops open upon insertion. This provides good support even on the thinnest drywall. Even so, keep in mind that thin walls are not the best places to hang anything. In cases like this, you are better off using a stud-finder and drilling your support anchors into something thicker than drywall.
Rule 5: If you want to drill into studs instead of drywall …
It is always safer to drill into studs than thin walling. There are two ways to go here. You could use your sense of hearing and tap along the wall until you locate a stud. Or, you could purchase an inexpensive stud-finder at any hardware store.
After locating the studs into which you want to drill, you will still want to use an anchor (see Rule 2) for optimum stability. Using an anchor in a stud will create a super-strong holder for your painting or picture.
Remember, if you'd rather have a pro do the job, contact an experienced handyman.
Bauer Construction has been offering handyman services in the greater Chicago area since 2006.